Diagnosing Dyslexia
For Teachers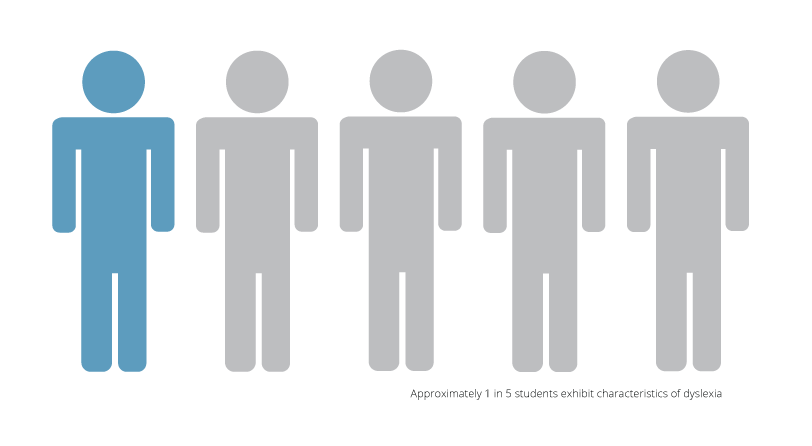 M

ost children with dyslexia do not arrive in a classroom with an official diagnosis and a plan for intervention. Although research indicates that approximately 1 in 5 students exhibit characteristics of dyslexia, teachers often have limited information about the developmental and academic histories of their students.
It may take several months for them to determine that a child is struggling and unable to make progress. For some of these students, this pattern has been repeated over several grades and they are already significantly behind in reading.
Many teachers feel inadequately trained to identify the characteristics that may signal that a student has dyslexia. As the "first responders" in the classroom, teachers are most likely to observe reading difficulties in their students and to recommend intervention.
Students who do not respond to intervention may be referred for an evaluation to determine a pattern of strengths and weaknesses. The process of evaluating for a reading disability takes time and valuable intervention opportunities may be lost while waiting for results.
By knowing what to look for, and how to intervene, teachers no longer need to wait for a child to fail to get the reading support they need. Knowledgeable teachers are able to identify and apply best practices for students with significant reading challenges, with or without a diagnosis.
Characteristics of Poor Readers
A great deal of research has created a constellation of characteristics that are indicators of dyslexia. Teachers may begin to recognize these characteristics in their students and develop an instructional plan to provide support until a diagnosis is received. Studies show that the earlier students receive targeted instruction, the better.
Dr. David Kilpatrick has outlined three main challenges for weak readers in his book, Assessing, Preventing, and Overcoming Reading Difficulties.
Poor phonic decoding ability

Limited sight vocabulary and difficulty remembering the words they read

Reading practice that provides dozens of exposures to words that readers will encounter
Characteristics of dyslexia can be grouped in several categories:
Developmental and Speech/Language History

Early Reading History

Reading and Writing Delays and Deficits
For a list of characteristics that have been linked to dyslexia and can be used by teachers to determine a pattern that may indicate a dyslexia profile, download a screening tool below.