June 10, 2013
Wading Through the Paperwork of Reading Assessments to Pinpoint Student Needs
By Guest Writer, Ali Parrish (@MsParrishClass http://techieteacher-charactercoach.blogspot.com)
Today is one of my favorite days of the school year. It's one of the few days when I get to assess all my students' reading abilities one-on-one. I love our personal reading meetings when, like a doctor listening to symptoms of a patient, I "diagnose" their reading level, "monitor" the strategies they are currently using and further "prescribe" what they need in order to improve their reading.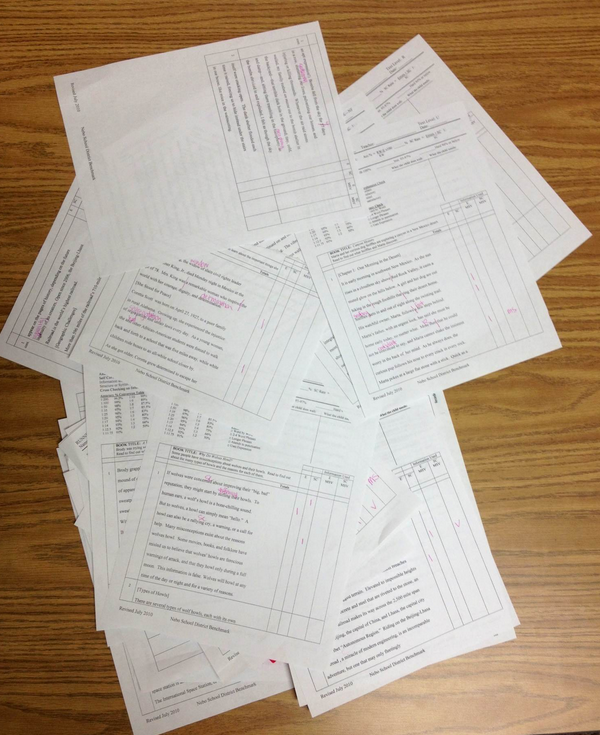 Reading assessments take a good amount of time and produce a lot of paperwork but the results of the assessments clarify how students can make huge strides in their reading and comprehension. One hurdle that we need to overcome however is transferring the students' identified needs that the assessments produce into actual reading lessons in the classroom and reading results in their day-to-day lives.
Reading assessments produce piles and piles of paper that teachers may have to wade through to get to what their students really need. To the right are just some of the pages and pages of assessment results from today.
All of these papers contain important information regarding reading strategies that students personally need, but with so much paperwork to wade through, the likelihood of transferring those student needs into actual lessons decreases, as the ease of accessing their assessment results becomes more challenging.

That is why I developed a one page "Readers-At-A-Glance" summary spreadsheet. Here is what mine looks like from today.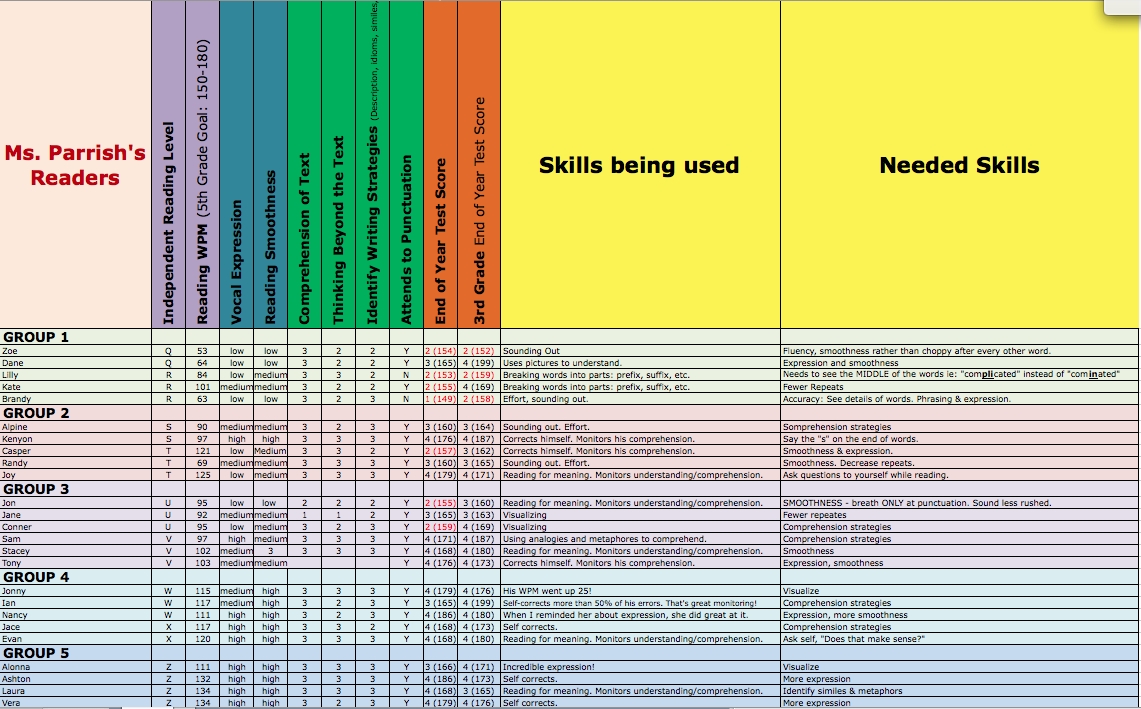 The spreadsheet helps me organize my reading groups by level and see individuals' learning needs, all on one page. More often than not, individuals in a specific reading group have related reading needs. For example, my lowest group on this spreadsheet all need a lesson on reading with vocal expression. I can also see that two of them are doing a great job of breaking words into smaller parts. Having all of their assessment information on one page helps me plan effective guided reading lessons for groups and individuals, and it was all done using data that I was already collecting. It is also a great resource for parent teacher conferences, providing me with a quick reference sheet to inform parents of something their child is doing well and something else that their child needs to be working on.

If you would like to download the "Readers At-A-Glance" template, it is available for download at this link.

If you have any questions regarding this sort of data collecting, post them in the comments section below. I would be happy to reply to questions you may have. If there are spreadsheets or strategies that have helped you transfer assessment results into effective lessons, please share them in the comments section below!
---
---
Early Literacy Resources
---
No Comments